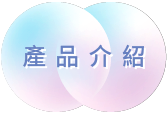 SEED Iris Soft Contact Lens Color Chart
(Before ordering, please kindly refer as following)
Product Name
SEED Iris Soft Contact Lens
Registration No. in Japan
20900BZZ00438000
Lens Material
Hydrogel
Pigment Material
Japan Government Approved Safe Colorants
Pigment Embedded Method
Dyeing the lens (Although the pigments directly contact the cornea, there is no safety problem for the pigments.)
DK value
12 × 10-11 (cm2 / sec)・ (mLO2 / (mL × mmHg))
Refractive index
1.444
Luminous transmittance
More than 94%
Water Content
35%
Modality
Daily Wear up to 12 months
Cleaning & Disinfection
Daily Clean and Disinfect lens by non-abrasive and non-peroxide soft contact lens solution.
BC
5types (8.00mm, 8.30mm, 8.60mm, 8.90mm, 9.20mm)
Power Range
0.00D ~ ± 10.00D (0.25D increments)
±10.50D ~ ± 25.00D (0.50D increments)
Diameter

Depends on BC (0.5mm increments)
When BC is
8.00mm:
12.0mm~13.5mm
8.30mm:
12.0mm~14.0mm
8.60mm:
12.0mm~14.5mm
8.90mm:
12.0mm~15.0mm
9.20mm:
12.0mm~15.0mm

Centre Thickness
0.13mm (-3.00D)
Design
5 Types
Iris Diameter
9.5mm~12.5mm (0.5mm increments );
Pupil Diameter
(depend on the Type and Power) 1.5mm~9.0mm (0.5mm increments);
Iris Colour
(depend on the Type and Power) Brown 3 types (A,B,C), Black 1 type (D)
How to choose Pupil Diameter?
Standard: 3mm
If the patient is young, can consider 3.5mm
If the patient aims to have vison correction and reduce photophobia , can consider 2mm
How to choose Iris Diameter?
Standard: 11.5mm
Match with the DIA of the other eye.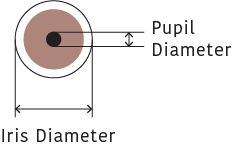 Standard: Brown (C)

Match with the color of the other eye by provided color chart.
Patients aiming to have vision correction, appearance improvement, photophobia reduction due to poor miosis > Type No.3
Patients aiming to have photophobia reduction > Types No.1, No.4
Patients who do not need vision correction, and aim to improve their appearance>Type No.2, No.5


Due to hygiene and custom-made characteristics, no trial lens available for fitting.
Regular cornea: empirical method (BC~mean K +0.8mm); Irregular cornea (Topographer ref.)
We suggest the first ordered lens with: Base Curve (BC): 8.6mm and Diameter (DIA): 13.5/14.0mm.
Apart from "ordering by lens ", we offer "ordering by case " that each lens can be exchanged 1 times within 60 days after delivery.
Practitioners can adjust the fitting by BC and DIA according to the fitting of the first ordered lens.
Fitting guide:
•good centration and coverage.
• movement after blinking: 1.0 ~ 1.5mm
• no indentation of blood vessels at lens edge.
Basic Data needed for prescription:
| Eye of Wearing | BC | Power | DIA | Type | Iris Diameter | Pupil Diameter | Colour |
| --- | --- | --- | --- | --- | --- | --- | --- |
| R | 8.6 | ‐3.00 | 13.5 | NO.3 | 11.0 | 3.0 | C |
Type No.1, No.4 : BC, Power, Diameter, Type, Iris Diameter, Colour (Pupil Diameter is not required)
Type No.2, No.3, No.5: BC, Power, Diameter, Type, Pupil Diameter , Iris Diameter, Colour